Peter Fang
Chief Operating Officer
Peter is Chief Operating Officer (COO), Advising Representative (Portfolio Manager), Dealing Representative and Director of Qwest Investment Fund Management Ltd. a subsidiary of Qwest Investment Management Corp. Peter is also COO of Qwest Investment Management Corp. and COO of Heritage Bancorp Ltd. Peter leads Hoovest Wealth Management, the money management division of Qwest Investment Fund Management Ltd. that he co-established, and is also part of the registered firm's Compliance and Investment Committees.
Peter has more than 10 years of advisory and financial services experience globally. He has been managing investment assets and advising high net worth clients as a registered advisor since 2013 with investment firms in Canada, most notably Manulife Securities.
Prior to that, Peter was an investment banker with JP Morgan in London UK and CITIC Securities in Hong Kong, where he specialized in mergers and acquisitions, private placements, spin-off IPOs, rights issues and other corporate finance activities.
Peter holds a bachelor's degree in finance from UBC and a master's degree in Management and Regulation of Risk from the London School of Economics. He is a CFA charterholder.
Corbin Lowe
Corbin Lowe is a Private Wealth Specialist and Dealing Representative with Hoovest Wealth Management, the wealth management division of Qwest Investment Fund Management Ltd.
Corbin has 5 years of advisory and financial services experience in Vancouver, helping business owners and their families grow their investment assets. Previous to Hoovest, Corbin was an investment fund advisor with Desjardins Independent Network, building a successful book of loyal clients.  Corbin has been managing a successful personal stock portfolio for close to 16 years, learning many hard lessons along the way. He now focuses on a concentrated growth portfolio of local micro-cap companies and using technical analysis to trade currency and indexes.
CORE STRENGTHS
Fundamental Equity Analysis
Technical Analysis
Political Policy and its Effects on Markets
Long Value Investing
Stock Equity Models
Currency and Index Trading
EXPERIENCE
Prior to joining the financial advisory industry, Corbin helped provide consulting services to several of BC and Canada's largest charities and helped them raise millions of dollars over 3 years.
In his spare time, Corbin satisfies his entrepreneurial bug by advising local startups in multiple different industries. Corbin is also co-founder of a quickly growing food delivery company and loves to play soccer, hockey and cycle. Corbin is also an Off-Ice Official for the NHL and recently attended the 2018 Winter Olympics and 2019 World Juniors on behalf of the IIHF.
CORBIN ENJOYS
Reading the news
Cycling long distances
Playing soccer
Garnet Andrews
Garnet is the Chief Investment Officer of Hoovest Asset Management.
Garnet has more then 24 years of pension fund investment experience. As the former Director of Investment Management for BC TEL and subsequently TELUS Corporation, he developed and implemented several successful pension investment strategies. While at TELUS, Garnet was also charged with the responsibility of overseeing compliance processes and the equity derivative investment programs of the pension plan funds.
CORE STRENGTHS
Fundamental Equity Analysis
Political Policy and its Effects on Markets
Long Investing
Stock Equity Models
EXPERIENCE
His prior experience also includes the responsibilities of participating as a member of numerous boards on TELUS' behalf, including the Telecommunication Workers Pension Plan board of trustees and Concert Real Estate Corporation.
Garnet holds a BBA (Accountancy) from Abilene Christian University, a Chartered Professional Accountant, Certified General Accountant designation in BC, Certified Public Accountant licence in Washington State and a Chartered Investment Manager designation.
GARNET ENJOYS
Cycling Annacis Island
Watching the birds
Swimming in the open ocean
Bryan Dar Santos
Since entering the financial industry in 1999, Bryan's experience in the capital markets and private business has crafted his skills in weaving through market turbulence, looking beyond the headlines and creating a positively unique investment experience for his clients. Bryan believes that investing is more than a curvature of numbers, it is an art form that requires a deep understanding of human emotion and an element of intuition. His passion for the industry expands beyond the trading floor and into the classroom where he teaches future generations of financial experts in the art of investing. Prior to entering the financial industry Bryan earned a bachelor's degree in psychology and worked with autistic children in the lower mainland.
CORE STRENGTHS
Fundamental Equity Analysis
Technical Analysis
Private Business and International Trade
Dynamic Financial Planning and Problem Solving
Strategic Investing
Investor Behavior Psychology
Marketing and Client Relations
EXPERIENCE
Early in Bryan's career, his background in psychology has helped him develop a deep respect for the seemingly erratic behaviour of the markets while he worked as a trader for a prominent brokerage firm in Vancouver; having witnessed first-hand the destructive effects of the tech bubble bursting and the events of 9/11. Afterwards, Bryan turned his focused on helping investors withstand market turbulence and was the primary market and investment specialist for hundreds of financial advisors across British Columbia.
In 2011, Bryan branched out on his own and provided independent financial counselling to financial advisors, businesses and retail investors. He conducted research on a variety of financial matters and products including private securities, and published a financial magazine from 2011-2014 that helped Canadians to earn, save, grow and protect their money. Since 2014, Bryan has been a prominent instructor of financial and financial licensing courses. In the summer of 2019, Bryan joined Hoovest Wealth Management, allowing him to incorporate Hoovest's cutting edge platform and unique product offering to his clients.
BRYAN ENJOYS
Nutrition and the Culinary Arts
Tending his garden
Incorporating sustainable practices
Watching a good film with popcorn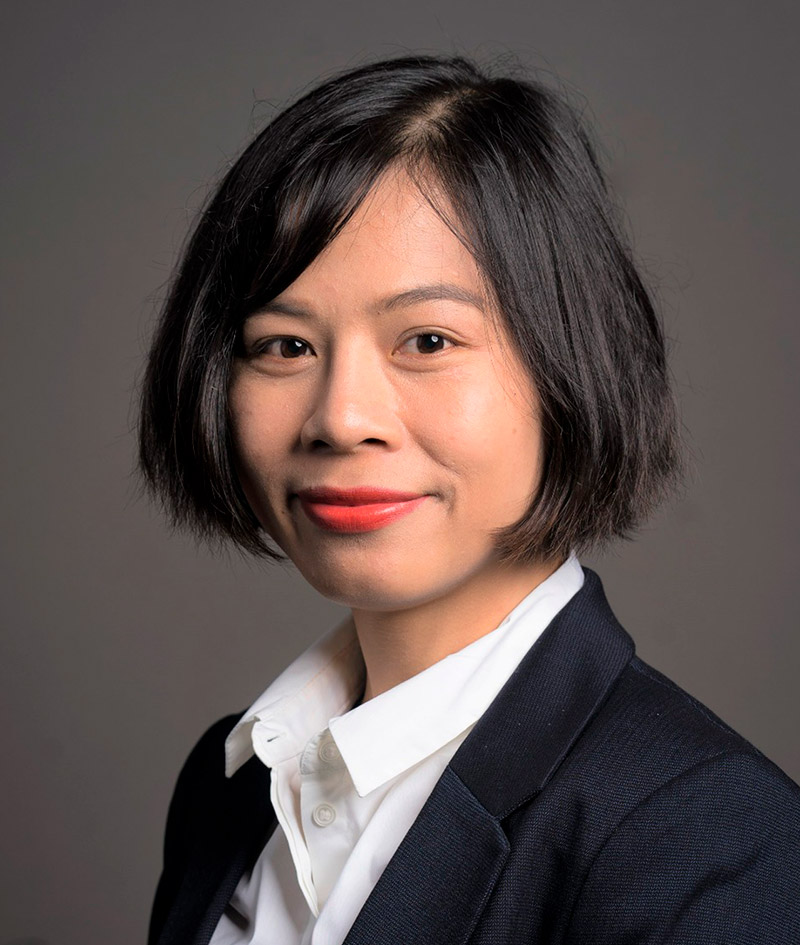 Hoa Nguyen
Hoa has over 8 years of experience in fund services, investment operations, and management with extensive knowledge of mutual fund, pension fund, ETF, Specialised Investment Fund (SIF), and UCITs. She previously worked for Standard Chartered Bank and investment companies. She holds an MBA from Simon Fraser University, a Masters in Investment Analysis from University of Stirling, and a Bachelors in Finance and Banking from Foreign Trade University.
Fei Li
Fei is the Marketing Manager and a Dealing representative with Hoovest Wealth Management, the wealth management division of Qwest Investment Fund Management Ltd.
Fei has over 5 years marketing, and client relationship experience. Fei worked with two start-up companies in Vancouver where his roles included key decision making, marketing strategy, and planning. Fei's strengths are in managing client relationships, earning trust and educating existing and potential clients. Fei enjoys working in teams and thinking strategically about new problems. He especially enjoys developing long term relationships with clients, organizations, teammates and friends.
CORE STRENGTHS
Client Relationships
Project Leadership
Marketing Analysis
Long Term Investing
Strategic Planning
Investment Funds
EXPERIENCE
Fei's experience is diverse, having worked in marketing, international business strategy and leadership. Fei earned this experience through managing projects from problem identification through to completion. He has worked with diverse teams to solve workplace challenges, global strategic issues, and even internal conflict resolution.
Fei is fluent in English and a native Mandarin speaker.
FEI ENJOYS
Hiking, swimming and travelling
Finding great food
Reading finance news
Playing basketball
Painting (oil)
Benjamin Waite
Ben Waite is an Associate Advising Representative (Portfolio Manager) with Hoovest Asset Management, the asset management division of Qwest Investment Fund Management Ltd. Ben co-manages the Hoovest Smart Indexing fund with Peter, a sector weighted index instead of a cap weighted index which decreases volatility. Ben manages a successful investment and financial planning practice with his mother in Regina where he lives. Ben attributes a lot of his early success to being able to connect with investors of all ages very early on. Ben has shaped his practice around automated technology that makes both the client and Ben's experience much better. Ben also utilizes technology to be able to service individuals who would normally be turned away by more traditional advisory firms that are too labour intensive to take on clients with lower levels of assets.
CORE STRENGTHS
Working within highly technical environments
Financial Modelling
Explaining investment solutions in simple terms
Building a better client experience
EXPERIENCE
Ben has spent his entire career in the industry, getting his feet wet as he was completing his university degree in finance over 9 years ago. Ben also has the unique experience of starting a book from scratch at age 20 into a successful practice.
BEN ENJOYS
Taking his young son and dog for a walk
Building out the gym in his basement
Experimenting with new financial models
Wilson Miao
As an Associate Wealth Specialist with Hoovest Wealth Management, a division of Qwest Investment Fund Management Ltd., Wilson strives to help his clients fully understand their financial situation and provide relevant advice that gets his clients to consider different perspectives in achieving their financial goals. Wilson takes the success of his clients personally and is motivated to ensure their satisfaction.
CORE STRENGTHS
Teamwork and Leadership
Interpersonal Skills
Marketing and Communication
Analytical and Problem Solving Skills
EXPERIENCE
Wilson has over 10 years of experience in marketing and real estate and provides services to clients in Vancouver, Taipei and Hong Kong.
While as a Real Estate Consultant at Macdonald Realty Westmar, Wilson offered analysis, guidance, and negotiation services with a specialty in senior retirement, independent living housing, and masterplan developments, as well as residential and commercial real estate.
Concurrently, Wilson acts as the Director of Communications and Marketing at the Richmond Sentinel, a local community news media, where he develops business connections in support of the local community.  He is also on the Board of Directors of ICONNBC Business Association, a non-profit business organization that promotes traditional Canadian values and fosters dialogue in business.
Wilson holds a Bachelor's of Business Administration from SFU Beedie School of Business, an active Real Estate Trading Services Licensing with Real Estate Council BC, and a certification for Exempt Market Proficiency.
WILSON ENJOYS
Numismatics
Swimming
Squash
Boating
Golfing
Spirit and wine tasting
Travelling